While Mei was unwavering with her choice to learn the cello, Noey took a while to decide what he wanted to do musically.
To be perfectly honest, his first reaction when I told him that I wanted him to explore learning a new instrument during the holidays was, well, dismay. "No, I don't want to learn anything," he announced worriedly. I wasn't too surprised. After struggling with Noey and piano lessons for over 3 years, I let him stop his lessons early last year, to our mutual relief. It was a decision I took after much consideration, when piano practice became the millstone around our necks, putting a strain on our relationship. I have not regretted that decision, though I still hope for him to pursue music in some form, and hopefully pick up the piano again in future when he feels he wants to.
My dissatisfaction with this state of affairs comes from the fact that this boy is actually rather musical. He's has good pitch and a clear singing voice, and is able to play songs by ear fairly effortlessly. Given this, I was very keen for him to continue exploring other musical instruments if not the piano, but unfortunately he was just as keen not to. The one thing he was willing to do was sing.
So when Aureus Academy offered us a choice of music lessons, naturally his first choice was Vocal Lessons.
For two weeks he attended vocal lessons with Teacher Wan Yen at Aureus Academy at Forum the Shopping Mall, during which he had fun learning to sing a repertoire of songs while improving his technique. While initially a bit hesitant, he warmed up quickly once the lesson started with vocal exercises. Teacher Wan Yen had also providentially picked Somewhere Over the Rainbow to teach him on the first lesson, a song that I had recently gotten him to practice for an audition, so he was excited to give it a go. He came out from that lesson telling me that song sounded "so much better" after Teacher Wan Yen had worked with him on his phrasing tone and expression. Well, I guess that's why you need professional help to get it right!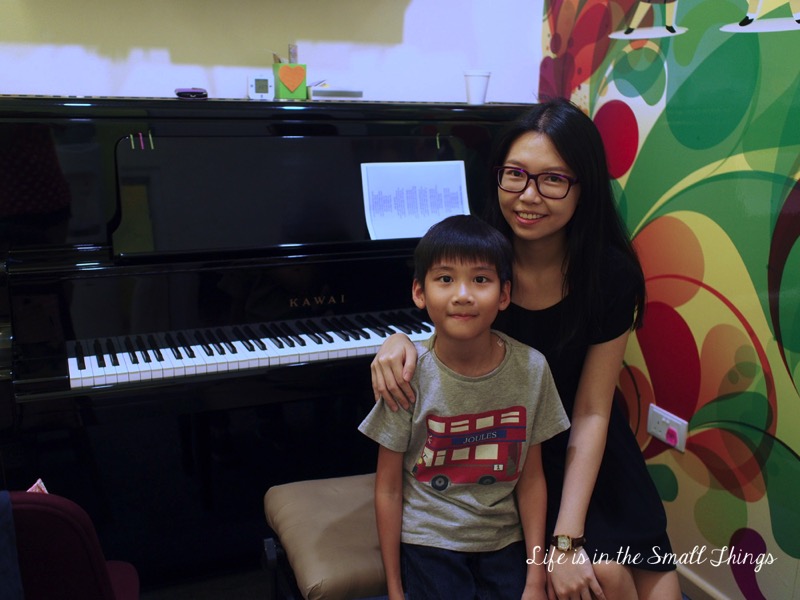 But something else happened when Noey went along with me to sit in on Mei's cello class. He was deeply fascinated, and after we got home, he asked me if he could switch from to learning the cello too. After being constantly rebuffed in my attempts to get him to give another instrument a try, I was so surprised by his request I nearly fell off my metaphorical chair. "I like the sound," he said. Since he was keen on strings, I suggested he try the violin to allow the siblings to learn different instruments and he gamely agreed.
Aureus Academy was kind enough to let him make the switch, which he did during his 3rd lesson with them.
I held my breath but he thankfully made a smooth start to the learning process. I think part of the reason is that his teacher, Teacher Lexi has been nothing but kind and understanding. She was very encouraging as took him through a basic introduction to the violin, allowing him to get a feel of the instrument through plucking and bowing, similar to what Naomi had experienced with the Cello. Having a basic grounding in music already did help him, I believe, as he breezed through the earlier music theory portions and focused on getting to know the instrument. The half an hour flew by and at the end of it, he gave it a big thumbs up and happily declared, "It was great! I like string instruments!"
It's been a couple of weeks and he's remained keen. Even my helper commented that Noey seems to really like the violin because she noticed he doesn't complain when asked to practice! The good thing about having one-on-one lessons is that he can progress at his own pace and right now, we are taking a fairly relaxed approach to learning. I just want him to learn something new, keep in touch with music and enjoy the process, and I'm glad that that's what we're doing right now.
I'll update again on his progress in a few weeks!
***************
Aureus Academy is one of Singapore's fastest growing music schools with over 1,800 students enrolled. Specialising in providing individually tailored piano, violin, guitar, and vocal lessons to students of all ages and abilities, Aureus Academy is conveniently located in 5 centres covering most parts of Singapore:
| | | |
| --- | --- | --- |
| Forum The Shopping Mall 583 Orchard Road #B1-18, Singapore 238884 | Rochester Mall 35 Rochester Drive #03-08/15, Singapore 138639 | 112 Katong 112 East Coast Road #03-10, Singapore 428802 |
| AMK Hub 53 Ang Mo Kio Ave 3 #03-03, Singapore 569933 | Westgate 3 Gateway Drive #03-18, Singapore 608532 |   |
P.S. The special one-time $50 discount off your first lesson upon registration is still valid for the readers of this blog! Just quote "LIFE IS IN THE SMALL THINGS" when you register!
*This post is the 2nd in a series of posts written in collaboration with Aureus Academy. We were invited to experience a term of lessons with Aureus Academy, and all opinions expressed are entirely my own.