Even though we live in tropical Singapore, every time Christmas rolls round, I find myself hankering for a snowy, white Christmas. One cold enough for chestnuts roasting on an open fire and all that jazz. I blame too much American television.
We aren't travelling anywhere this holiday, not to mention anywhere cold, so I wasn't expecting to experience any snow this December here in Singapore. But that's exactly what the kids and I got to experience, right in the heart of Orchard Road at Snowy Splendour @ Plaza Singapura! 
Presenting… the outdoor Snow FunHouse!
Behind these doors, a house of fun in the snow!
Situated in outdoor plaza on the ground floor in front of the main entrance to Plaza Singapura, the outdoor Snow FunHouse is the first ever specially designed by Snow City where one can enjoy playing in a winter wonderland in sub-zero temperatures. Yup, there's real snow! eight tonnes of it!
The kids were most excited to get into right into the snow, though I must admit that getting the kids into winter gear (jackets and snow boots are provided) outdoors in our warm temperature took a little convincing. But once they stepped inside, well, there was no stopping them!
Look Ma, it's snowing!
They were most taken with the little ice slide which was their favourite aspect of the snow play. But Mei also spent a good long time time digging in the snow with the little buckets and spades provided, trying to make her own snow-castles. While, after playing for a bit, Noey the rascal devolved to trying to throw snow on me!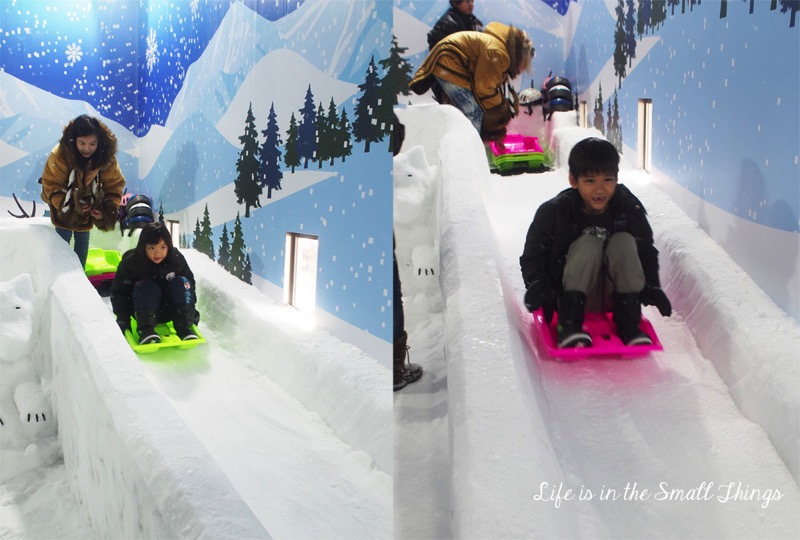 Slip sliding away!
Trying to make snow castles!
A little present for you, Mummy?
Stomping in the snow is fun!
One for the camera with Mummy!
The kids had so much fun, I had difficulty dragging them out of the Snow FunHouse. It was the cold that eventually got them running for the door to warm up. But once they thawed out a bit, they were raring to go again. 
Aside from playing in the snow, you can also head on inside the mall to catch the Cryogenic Science Shows, dabble in some Kids Craft, and meet the Snow City mascots, the Arctic Avengers.
Having fun with liquid nitrogen during the Cryogenic Science Show. 
Meet & Greet with the Arctic Avengers.
Don't forget to shop at the Christmas Market too, where there is plenty to browse for the whole family. Needless to say, the Hamley's section was the most popular with the kids.
Are you all ready for Christmas?
Oo… toys…
I think we'll be heading down to Plaza Singapura for another play session soon!
Snowy Splendour @ Plaza Singapura:
Snow FunHouse
Date: 5 to 25 December
Time:  11am to 9pm daily
Redeem a pass for 2 pax with minimum $30 spending in a single receipt. If you want 2 passes (i.e.. for 4 pax), you will need 2 receipts of minimum $30 spending each.
Each pass entitles you to 20 minutes of play time in the Snow FunHouse.
There are fixed sessions every half hour and the Snow FunHouse can accommodate up to 20 pax per session.
Winter jackets and snow boots are provided. Do wear long pants when you visit as it gets pretty cold (0 to -7 degrees C!).
Children under 7 years of age must be accompanied by an adult.
Cryogenic Science Shows
Date: 5 to 25 December
Time: 3pm, 5pm and 7pm on Saturdays and Sundays
Arctic Avengers Meet & Greet
Date: 5 to 25 December
Time: 5pm and 7pm, Monday to Friday; 3.30pm and 7.30pm, Saturday and Sunday
Kids Craft Workshops
Date: 5 to 25 December
Time: 11am to 9pm daily
Christmas Market
Date: 2 to 25 December
Time: 10am to 10pm daily 
* Thank you Plaza Singapura for the media invite!