When it comes to bath and body products, there's soap, which is basically what I grew up using. Then there's really nice skincare, like Original Sprout which my lucky kids get to use.
There are many things I like about Original Sprout, starting with the fact that it only contains what the brand terms "worry-free ingredients". These are not only all-natural, but have also been carefully selected to ensure that they are safe for the whole family. With concerns that cancer and early puberty are linked to hormone disruption, Original Sprout's products have been formulated to specifically omit any natural or synthetic hormone disrupters such as soy, yam, tea tree, lavender, parabens, titanium dioxide, formaldehyde or nano-particles. They are also 100% vegan, with no gluten, honey, peanut or diary, and the brand is also committed to being environmentally responsible and eco-friendly, and its products are not tested on animals. That's pretty impressive if you ask me.
We recently received a set of products from Original Sprout to review and frankly, I was delighted. I had previously tried their Scrumptious Baby Cream and found it as delicious to use as its name suggests. It was one of the few baby creams that I actually used till the tube was squeezed dry.   This time we were able to test out more items in their product range, so I put my little assistants on the job to pick out their favourite products.
Here's what they thought: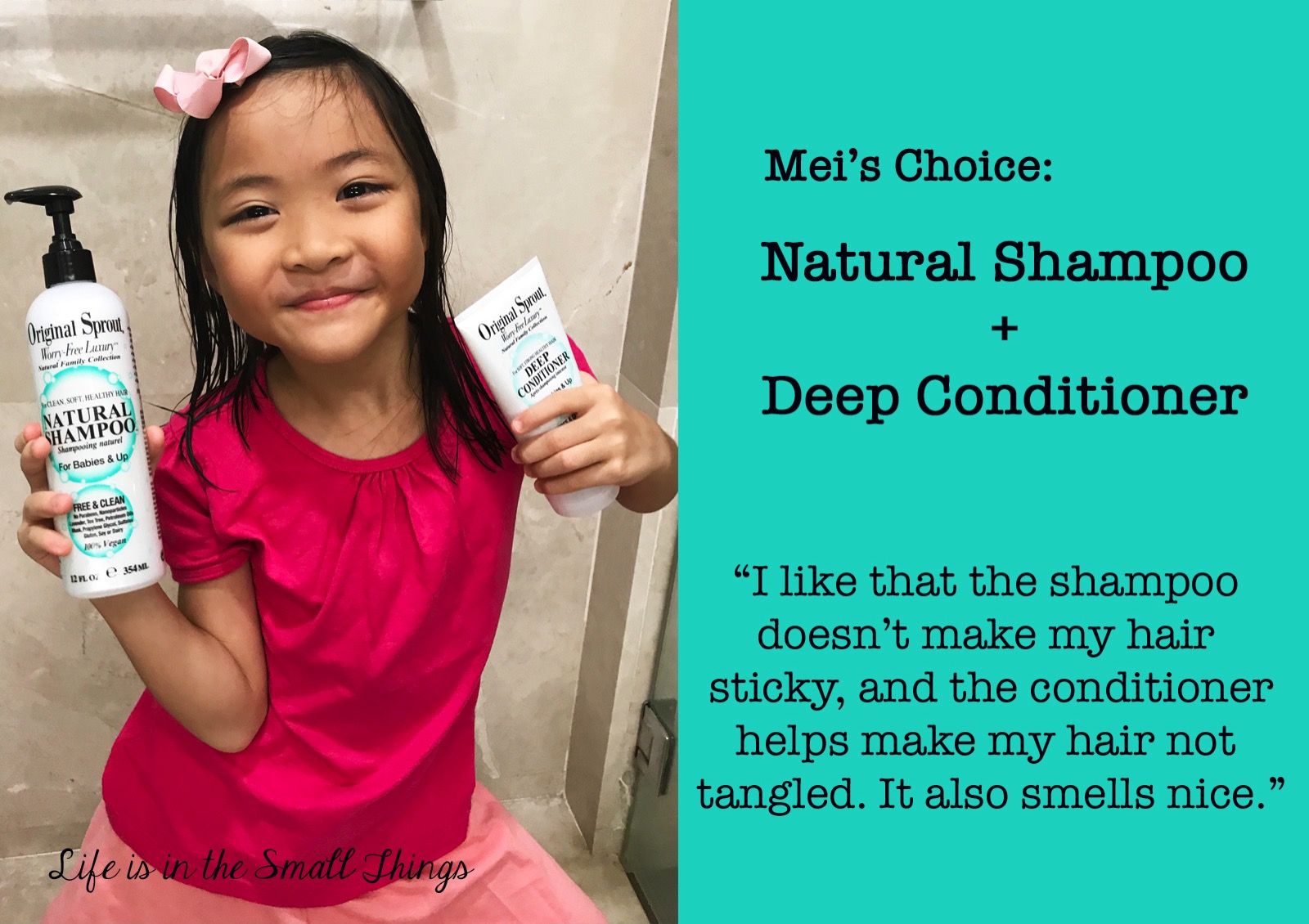 Original Sprout's Natural Shampoo was a clear winner with my two older kids. It is non-foaming which the husband does not like, but which I do, since this is a  sure sign that it does not contain added sulphates for altering action. The Natural Shampoo was also a bit of a revelation. We had been struggling with Mei's hair when she was using a regular shampoo from a household brand. Conditioner was a must, or her hair would, on emerging from the bath, be tangled and difficult to comb. Only after using the Natural Shampoo did I realise that her regular shampoo was the culprit. When we switched to the Natural Shampoo, her hair stopped clumping together after being washed. We found that she didn't need really need conditioner on a regular basis any more, which was an added bonus! Mei still likes the conditioner though as it makes her hair softer. I'm just glad I don't have to struggle as much with her hair now!
The Scrumptious Baby Cream is as yummy as I remember, and still one of my favourites. It slides on easily and gets absorbed quickly, leaving skin feeling fresh and smelling good. I admit to stealing some of this for myself on occasion!
Aside from these products, we also tried the Hair & Body Babywash and the Miracle Detangler. The Hair & Body Baby Wash is a good top-to-toe product which I've been using on Baby Nate. It has a low-lathering formulation that washes clean with a lasting fragrance, and has also helped with the little specks of cradle cap that he gets. The Miracle Detangler I've used on myself. My hair has some natural curls and I like spritzing some of the Miracle Detangler on my hair before air-drying my hair, especially when I'm in a hurry. (Which is like nearly all the time! Haha.)
I've mentioned how good these products smell and it was of comfort to me that the fragrances and essential oils used in Original Sprout's product line are approved by California's Safe Cosmetics Program and the European Cosmetics Directive. So these products work well, smell great, and are safe for the whole family down to our littlest member. What's there not to love, right? My only complaint is that because the products are low-lathering, my kids tend to use a bit when they are bathing themselves. Which means they are hankering for me to buy more soon, like they are now!
Original Sprout is available at Watsons, Guardian, Kiddy Palace, Motherswork and 10 10 Mother & Child Essentials, and can also be purchased only at www.originalsprout.com.sg. For more information on Original Sprout, please visit https://www.facebook.com/OriginalSproutSG/.
* We were provided with the Original Sprout products that were reviewed in this post. No monetary compensation was received and the opinions expressed herein are, as always, authentically my own.