When it comes to meat, I always think it tastes best coming off a hot grill. Yes, I love me a good barbecue, I do. But in my opinion, the best way to enjoy a barbecue is to have someone else do the cooking!
If you're like me, then you're going to love the Super Social BBQ which happens at Timbre@Gilman every Saturday and Sunday afternoon till late.  
Super Social BBQ, now happening at Timbre@Gilman every weekend!
Timbre used to be a place where my friends and I could count on grabbing a drink and chilling out to live music to unwind after work. While that now feels like a lifetime ago, I am glad to say that that chill-out vibe is very much present at Timbre@Gilman. Walking in with the band in full swing, I felt myself relax… and my mind automatically ask for a beer! But the best thing about this outlet is that in the weekends, the children can join in the fun too. Mine certainly didn't need an invitation, when they spied the bouncy castles on the back lawn! 
Every bouncy castle day is a good day!
Sadly it poured just before on our most recent visit so the bouncy castles weren't in operation, but the kids still found other things to amuse themselves with at the Kids Corner with the face painting, balloon twisting and craft corner in full swing. This being the Carnival version of the Super Social BBQ, there were little carnival games for young and old to try their hands at too.
The sign marks the spot!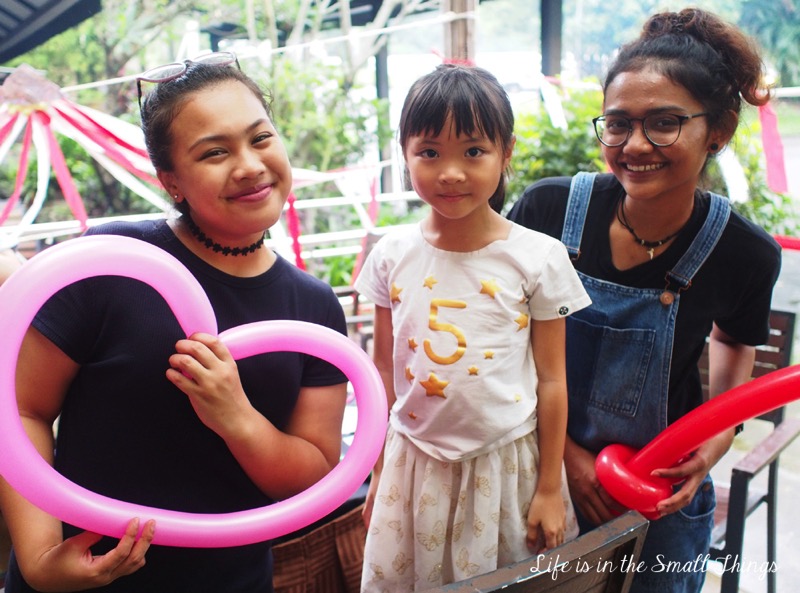 With the lovely girls manning the balloon counter. As you would expect, they were kept busy twisting balloons the whole time, to the delight of the children around.
Pleased with her butterfly!
So while the kids were excited about the on-going activities, I was busy eyeing — and smelling — the food! We (okay, I) just love barbecued food and looking at the menu made me very excited. Hello MEAT! I also had a rather helpful Noey all enthusiastic about helping me order because he got to use the IPAD to place the orders, something he just loves to do. 
When's our food coming?
So maybe we were a leeeetle click-happy but we had Beef and Chicken and Sausages to share, balanced off with a nice big Salad. So good.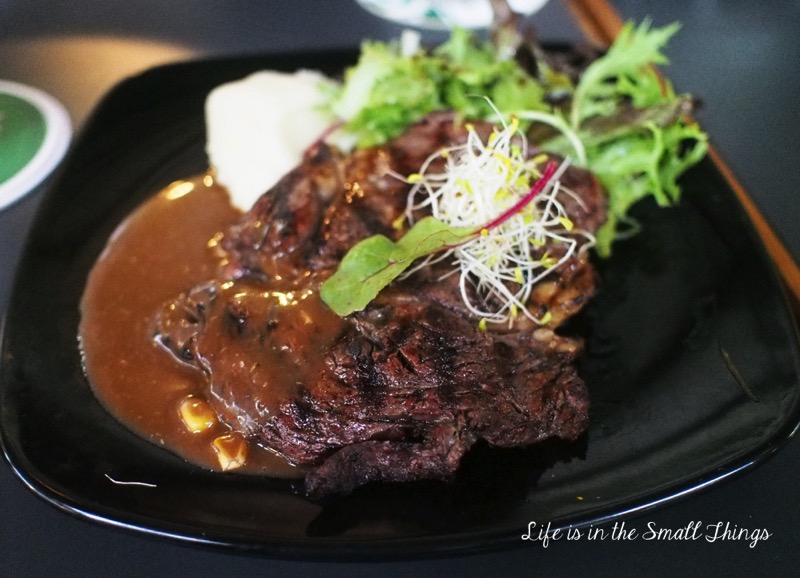 Grilled Ribeye Steak (200g) with Horseradish Red Wine Sauce ($25) 
Spicy Garlic Soy Grilled Chicken Thigh (300g) ($20)
Beer Bratwurst Sausage topped with Fried Egg ($22). The husband and kids enjoyed this so much they ordered two of these.
Baby Back Ribs ($22). We didn't order these but they sure looked yummy!
Our friendly chef hard at work!
I felt I needed some greens to go with all that meat and this Mesclun Salad with Prawn and Peach Salsa certainly did the trick!
In between eating, we were treated to music from the live band, a Timbre signature, and something that Noey and I particularly enjoyed. He was fascinated by the fact that you could SMS in song requests though he baulked a little when asked to give it a shot. He was quite content listening and earnestly bobbing along to the popular tunes especially when familiar tunes came up in the rotation. Itreminded me of how much I used to love doing the same thing at Timbre in the good ol' days and I was glad to be able to share that with my kids.
The live band in full swing on stage.
 Even with all that food, we made sure to leave some room for dessert, and had chocolate and ice-cream to wrap up our day.  
Profiteroles ($16) are one of my favourite things. Puff pastry with ice-cream! I devoured more than my share of these.
This Chocolate Sphere ($15) was a favourite with the kids, so much so I didn't get to eat much of it. Chocolate mousse with hazelnut creme, paired with berries, this was delicious.
It was a great way to wind down a busy day and the lot of us were humming tunes all the way to the car after dinner! I guess we'll have to make a date with Timbre again another weekend when the weather is a bit less wet so the kids can go wild in the backyard.
If you don't have plans for this Christmas weekend, you might like to check out their Christmas edition of Super Social BBQ that will be happening on Saturday and Sunday from 4pm! On top of Christmas crafts, and bouncy castles, I hear that Santa will be making a special appearance to hand out candies! That sounds like quite a treat to me!  
Happy weekend folks and Merry Christmas!
Timbre @ Gilman
9A Lock Road, #01-05
Gilman Barracks
Singapore 108926
Tel: 6694 4201
Web: http://timbregroup.asia/timbresg/timbre-gillman/
Reservations: http://www.timbregroup.asia/timbresg/reservations.html 
* We were invited to experience Super Social BBQ and given dining credits for our meal. All opinions remain, as always, authentically my own.