We celebrated Naomi's birthday with a not-too-big yet not-so-small do at Cookyn Inc on 3 March, the day after her actual birthday.
When I first started scouting for venues, I already had my heart set on Cookyn. I knew what I wanted:
1. Great food, for adults. I really didn't want everyone to be eating kiddy food when everything else about the party would have been geared towards the kids anyway.
2. Space for the kids to play. Preferably with it's own playground/play area.
3. Central location that wasn't too far from home or too difficult for folks to get to on a Saturday morning.
I checked out a few cafes and aside from Cookyn, the other place that I really wanted was Food for Thought at Botanic Gardens. Aside from the food (which wasn't the best but was at least decent), they had a lovely huge space with more than enough capacity, a playground outdoors that was in full view of the restaurant, and it was a very short drive from home. Sadly when I enquired, I was told that they were not taking reservations as yet as they were newly opened.
Then I paid Cookyn Inc a visit and really, really liked the place. I already knew that with them, the food was guaranteed to be good and with Amanda, my party was in safe hands. There wasn't a playground but I knew I could work with the courtyard outside. The only problem was that I had to trim the guest list to keep it within budget.
I'm so glad we plumped for Cookyn because everything turned out so well! We got rave reviews for the food, and their warm and hospitable service was wonderful. I was particularly glad that they took the initiative to walk around and serve the hotdogs to get things started or I might not have gotten any! As an added bonus, they even had a photographer to take some shots which was great because it was difficult for either of us to take any photos on our own. They even flashed some of the photos immediately on their video screens which I thought was a nice touch.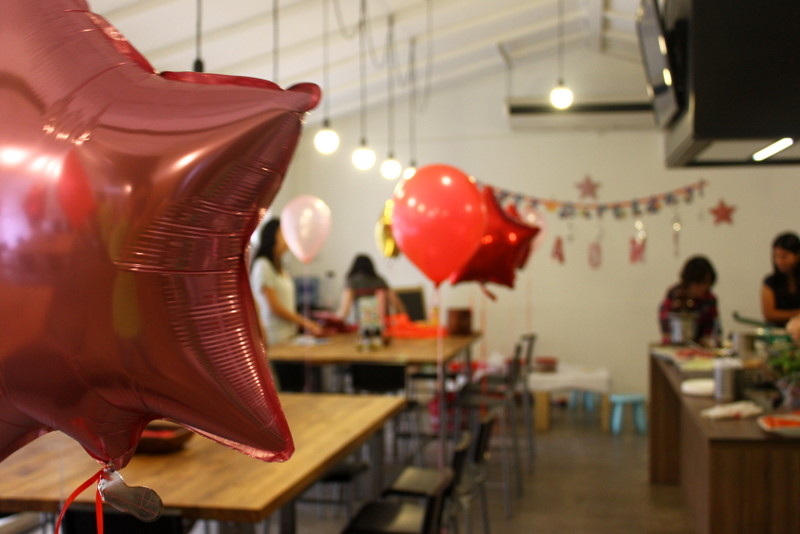 Happy balloons with the set-up in progress. I chose a "Twinkle twinkle little star" theme for her and so we had stars everywhere for decor.
A year of Naomi. I intend to replicate this at home — I like it so much!
The menu for the day
Salad with Feta, Crouton & Snudried Tomato. Well, you can read the label!
Smoked salmon with Creme Fraiche (not pictured)
Cheese Dogs with Chili con Carne. This was sooooo good. I wish I had taken another one but I was too busy greeting guests.
Chocolate fondue fountain. A hit with the kids in particular!
Live sorbet station.
I missed taking a pic of the slow roasted pork belly, which might be a good thing on hindsight since it's making me hungry just thinking about it.
At the end of the day, even DD was glad I had persuaded him to have the party there. Two thumbs up to them!