When I think back on my childhood days, my visits to the wet market with my grandmother are among those that stand out in my memory.
I remember following her around to the stalls at the Serangoon Gardens Market, gingerly tip-toeing over the wet floor near the fish stall and staring fascinated at the stallholder shaping fishballs by hand at lightning speed.  Back then, it was par for the course to see meat lying in slabs on an open counter or hanging from meat hooks around the butcher. The market was noisy too, for over at the poultry section you'd see cages filled with live chickens and ducks. My grandmother would pick the chicken that she wanted and it would be killed on the spot, de-feathered and then cleaned for us to take home. Ultimately I endured this whole trip for the reward at the end: crispy 油条 (fried dough fritters) and soybean milk. That was such a treat.
Growing up, my mother has always maintained that you can only get fresh fish at the wet market, and so while she regularly grocery shopped at supermarkets, she continued to make trips to the wet market to buy some items like fish and fishballs.
After I got married and moved out, I attempted to go to the wet market on my own and quickly ran into a problem: I couldn't wake up early enough! The earliest I could drag myself down to the nearest wet market was 9.30am, and by then I would find the stalls closed and the stallholders washing up for the day. Sleep was a precious commodity then and it didn't seem worthwhile to wake up extra early just to shop. (In truth, I just couldn't drag myself out of bed on a Saturday morning, period.) I instead had a standing order for fresh fish and prawns with my mum that she'd buy and pass to me once a week, on average.
Fast-forward to three years ago. We had shifted to our current home, I had two kids and the task of feeding them three meals a day, everyday. I figured it was time to venture to the wet market myself. That was when I made a very welcome discovery: Empress Market, the wet market along Farrer Road, opened till late, ie. 12pm! Of course, it helped that two kids later, I'm now an early riser. Thus began my love affair with my neighbourhood market.
There were quite a few hits and misses to begin with, but today, I'm a regular wet market aunty! Here are some reasons why I love going to the wet market, specifically Empress Market (aka Empress Road Market and Food Centre):
1. The availability of cheap and fresh food
The chief reason for going down to the wet market is definitely the variety of fresh food available at reasonable prices. What I usually buy at the wet market from the different stores I patronise:
Chicken — Sakura chicken (chopped into parts), chicken wings, chicken thighs, boneless chicken breast, chicken bones for soup.
Pork — Minced pork, pork fillet, pork bones for soup, some pork belly
Fish — Cod fillets, salmon fillet, pomfret, sea bass, snapper fillets, prawns, squid
Vegetables — Xiao bai cai, chye sim, french beans sweet peas, and sweet corn (all organic!) tang-oh, carrots, white mushrooms, broccoli, cabbage, lotus root, tomatoes,  and whatever looks fresh
Fruit — Anything that is in season and catches my fancy!
Eggs
Fresh fishballs and yong tau foo
Dried goods and provisions — Kiam chye, dried scallops, wolfberries and dates, etc. for soup, peanuts, dried mushrooms, tang hoon, potatoes, onions, shallots, ginger, garlic
Noodles — Mee, Ee-mee, tau kua, tofu, beansprouts, really hot chilli sauce
Basically all the fresh food that I can get at the supermarket (and some that I can't), but at cheaper prices. They have organic vegetables and salad leaves, and you can buy herbs at a fraction of their supermarket price. And true to my mum's mantra, the fish is definitely better. Dried/packaged goods aren't always cheaper. (Yes, true aunties like me will know the prices and be able to do a mental comparison!) So pick what you buy, but the prices are generally reasonable.
My long-suffering and very helpful fishmonger (#01-12/13), who obliged me with this photo before zipping off to fulfil more orders!
The typical reaction from my kids when I get them to follow me around!
2. The ability to tap on the expertise of the stallholders
Before going to the wet market, I stressed about the names of the different fish or different cuts of meat, but I found that I actually just had to ask and the stallholders were willing to help. Better yet, just tell them what you're intending to cook and they'll usually be able to recommend the type of fish or meat/cuts that you need.
My kids are fruit fiends and we now almost always have sweet fruits in our fridge, thanks to the chaps at the fruit stall. They advise me on what is in season, what to buy and what to avoid. And when they tell me something is sweet, I can be sure that it is! When I wanted to make pineapple tarts, they picked out the right pineapple for me (firm, with a lower water content) and peeled and removed the eyes on the spot. They stall also carries a big variety of fruits that might not be as readily available in the supermarket. Just yesterday I came home with longans and rambutans, in addition to donut peaches, half a melon, apples, pears and a really beautiful bunch of grapes.
Some fruits at my favourite fruit stall (#01-45/46/47), and also the largest, taking up three units. It is across from the flower stall and beside the aquarium stall. You can't miss it.
3. Being able to buy exactly what I want
Know that feeling of needing only one brinjal for your curry but having to buy two because the supermarket packages came that way? Or having to buy a whole packet of lime leaves when you just needed a small handful and wondering what on earth to do with the rest? In the wet market, you don't have to worry about these things because you can buy exactly what you need. I can buy kway teow for 3 pax for $1.20 or exactly 4 rounds of wanton mee if that's what I need for lunch. I can buy a small handful cherry tomatoes to satisfy a recipe. I was particularly pleased to find that I could buy half a head of celery if I wanted. Too often have I bought a whole packet of celery from the supermarket for just two sticks and not been able to use it up before it spoiled.
Uncle at the veg stall that I patronise (#01-39/40) who does lightning quick calculations aloud totalling up your bill! This is the 2nd most popular veg stall at the market. The most popular stall is usually really crowded and I can't get anything so I prefer this stall better.
Aubergines, fennel, mint, dill, salad leaves… yup, all available at the wet market!
The helpful stall holders also chop up all my meats and pack them exactly the way I want it. Love it.
4. Freebies — aka never having to buy spring onions or pandan leaves
And related to #3 above, sometimes when you just need a little bit of an item, the Uncle is usually more than willing to throw it in for you. So I've almost never had to buy spring onions, pandan leaves, lime leaves, curry leaves, and herbs because the Uncle at the vegetable stall would usually just add a bit to my bag if I ask.
5. I can get fresh fishballs and Yong Tau Foo!
If you know me, you'll know that I LOVE my fishballs and yong tau foo. Supermarket versions definitely don't cut it for me. There is only one fishball and yong tau foo stall at this market, and by now, the aunty and uncle here know my order by heart because I always pop by when I go down. There's nothing like fishballs that are made by hand, on the spot, just like in the good old days.
This is a poor picture but this is my fishball and yong tau foo stall (#01-09). I was late and a lot of stuff's been sold. You can see the handmade fishballs in the small containers in front of the Uncle.
6. The joy of forging relationships (and buying stuff on credit)
After so many repeated visits, I have struck up a friendly relationship with the stallholders. I must admit, I have not learnt their names nor they mine. I call them Aunty and Uncle in our Singaporean way, and they call me 小妹. (Haha, any wonder why I like them so much?) But that does not stop us from trading stories. They ask about my kids and tell me about their grandkids. On hearing that my kids are unwell, the Aunty at the dried goods provision stall will exhort me to boil barley for them, pick out the ingredients, and give me instructions on how to boil the barley drink. There have also been days when I have run out of cash and the ATM nearby is not working, but because I'm a regular, the stallholders just handed me my food and told me to come back and pay next time! I'm glad to have built that relationship of trust!
The friendly Uncle and Aunty at my chicken stall (#01-06). He's been selling chicken for more than 40 years!
The equally friendly Aunty at the dried goods provision stall (#01-68) who was more camera shy.
*One more stallholder that I didn't manage to get a good picture of is my pork seller, the Uncle at #01-20.*
7. Everything under one roof
The Empress Market is a relatively small market but I love that it's compact and has everything under one roof. Aside from all the food, I also pop by the seamstress there when I need my clothes altered, and there's a laundromat (Auto-Coin Laundrette Drycleaning Centre) just under the block across the walkway from the market where I bring my drycleaning.
8. The after-shopping breakfast!
After shopping, I stop at the food centre for some food to round up! I love the porridge from Seng Kee Porridge (#01-93) and often stop by for some 皮蛋粥 (century egg porridge) washed down with soya bean milk from the Traditional Soybean Drink/Beverage stall (#01-102, facing the playground). Other favourites include Ah Wing's Wanton Mee (#01-108) — there's always a queue at this stall for their wanton mee! — and The Fresh Bread Shop (#01-77) for their buns. My personal favourite are the butter buns, with a fresh dollop of butter and topped with some sugar. This bread shop is incidentally a branch of the original stall in Shunfu Market. I usually pack some soybean milk and buns home for the kids to enjoy too.
My standard porridge and soybean order. I like to sit on the outside and watch the kids playing at the nearby playground while I eat.
Bread stall. Soya Bean Drink stall and Wanton Mee stall (with the perpetual long queues!)
The recently refurbished playground right next to the food centre. Mei's fav place!
So The Empress Market isn't the biggest and isn't the cheapest and the quality and variety you get here probably pales in comparison to more renown wet markets not too far away like the famed Ghim Moh Market. But it works for me, and I love it, for the food, the convenience, and the community.
If you're thinking of shopping at the wet market but are afraid to because you (a) can't speak mandarin/dialect to save your life or (b) are afraid of being fleeced, I say: BE BRAVE! A lot of the stallholders understand and speak English and will help you along. And about getting fleeced, well, you might get fleeced once but tell yourself you won't get fleeced a second time. If you shop regularly at the supermarket, you will have a good working knowledge of prices.  I actually don't bargain because I think the prices are reasonable and the stallholders often round down for me anyway. I think the stallholders are more interested in repeat business too so they by and large keep things honest. Just don't be persuaded into buying things you don't want!
I'm a wet market Aunty, and I'm proud of it.
Empress Road Market & Food Centre
Blk 7 Empress Road
Singapore 260007
*************************
This post is part of the 'To Market, To Market' Blog Train hosted by Life's Tiny Miracles. To read about other local markets in Singapore, please click on the icon below.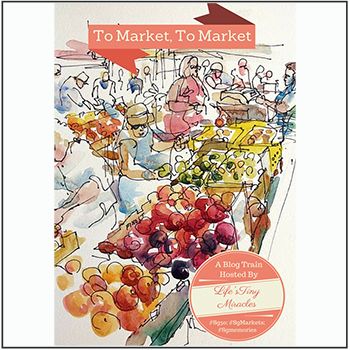 Tomorrow, Shirley, one half of SAys! Happy Mums, will bring us on an exploration of Old Chinatown Market.
Shirley and Audrey, 2 Besties, blog together about happy motherhood moments, daily life and fun family bonding activities at SAys! Happy Mums. Shirley loves SCUBA-diving and the outdoors and always encourages her young ones to explore nature activities. She relishes me-time and spends it eating, cooking, blogging and online shopping!