The Sound of Music makes it's way back to stage in Singapore and we were super stoked to be able to go catch it!
There are some musicals which I would catch in a heartbeat, but few hold as special a place in my heart as The Sound of Music, one of the shows that I grew up watching (and re-watching) on telly.
Set in the 1938, The Sound of Music tells the uplifting tale of Maria, a nun-in-training, who takes up an assignment as a governess to the seven children of the von Trapp family. In the process, she changes their lives and that of their father, Captain von Trapp by re-introducing them to music. She later marries the widowed Captain but their happy family life is unfortunately interrupted by the outbreak of World War II. Captain von Trapp is offered a commission with the German navy but as he opposes the Nazis, the story ends with the family escaping the Austrian mountains to continue a new life in Switzerland.
That's the story, but everyone knows that the true magic of The Sound of Music comes from it's musical score, with its many memorable songs that I know forwards and backwards, inside and out! Which is why watching this show live is a worthwhile experience, because there is nothing like listening to the orchestrations of a live band supporting great vocalists who put the life into these familiar old tunes.
So is it worth going to this show? Oh yes.
I caught The Sound of Music when the production first hit our shores in 2014, so it was inevitable that I was going to draw comparisons between this show and my previous viewing. The verdict is that even without the novelty factor this time round, I enjoyed this production better.
One reason for this is that I felt that the leads were well-matched and believable as a couple. Carmen Pretorius brought a certain youthful energy to her portrayal of Maria which I felt was very appealing for the character. Nicholas Maude on his part, with his salt and pepper hair, personified the staid yet loving father of the von Trapp children. They each carried off their roles well but together they had a good chemistry that enabled us in the audience fully immerse ourselves in the story. 
The leads also had a good rapport with the children. And indeed, the children were the crowd favourites on gala night. Each time they came on stage, you could feel the energy level rise and each of their numbers was greeted enthusiastically by the audience. Perhaps it was appreciation for local talent since, apart from Liesl, the rest of the six von Trapp children are played by 18 locally-based children in three teams. Full of life and energy, I truly enjoyed the performances of these youngsters who gave it their all and carried off their roles with much aplomb. My 6-year-old, who was also my date for the night, really enjoyed their antics and I could see her chuckling away during their ensemble numbers. Little Gretl was her favourite — perhaps she could relate? Since we've watched the show, she's been repeating her favourite moments and playing her favourite songs on my phone on repeat.
As I mentioned in my previous review during my first viewing of this musical, this stage production is a little different from the film. If you are born and bred on the classic film version of The Sound of Music, you might be surprised to find different songs popping up at unexpected places. For example, Maria sings A Lonely Goatherd to the children to assure them during the storm instead of My Favourite Things. There are a couple of others and a couple of new songs too but I'll leave you to discover these yourself! The story is also more condensed in comparison to the film, but I consider this a good thing!
All in all, The Sound of Music is a wonderful musical for the whole family. While my 6-year old did need me to explain some of the story to her, by and large, she was able to follow along on her own. In any case, music speaks a language of its own, and the songs in The Sound of Music are some of the best around. This is one musical that has stood the test of time and continues to be one of the best musicals to enjoy as a family.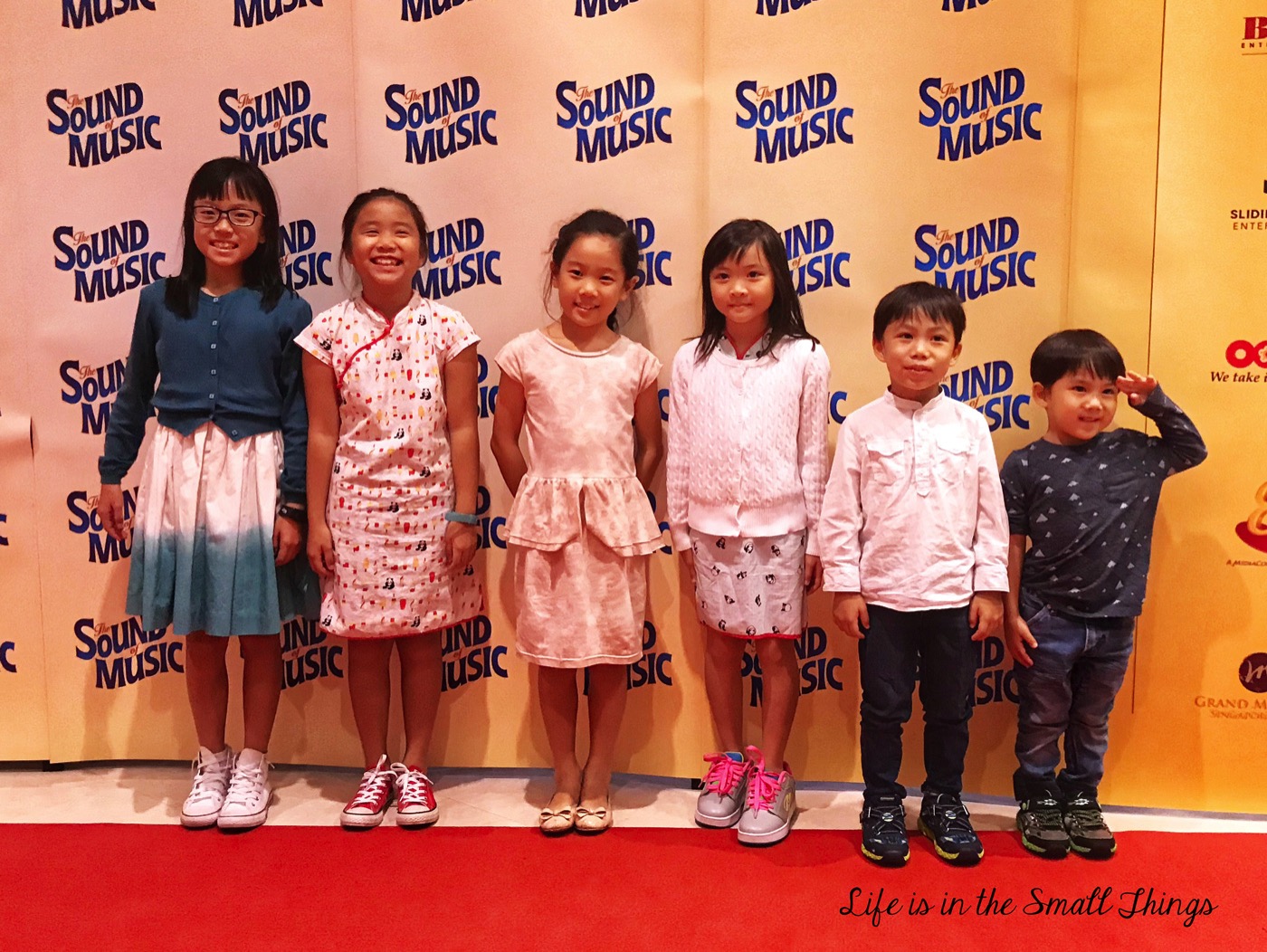 The Sound of Music
Ticketing and Show Information
Season: 7 Nov to 3 Dec 2017
Venue: Sands Theatre, Mastercard Theatres at Marina Bay Sands
Performance Times: Tuesday to Friday 7.30pm; Saturday 2pm & 7.30pm; Sunday 1pm & 6pm
Ticket Prices: $185 (VIP), $155 (A Reserve), $125 (B Reserve), $95 (C Reserve) and $65 (D Reserve)
Booking Through Internet: MarinaBaySands.com or Sistic
Booking By Phone: +65 6688 8826
Booking In Person: Marina Bay Sands Box Offices at the Museum, Theatres, SkyPark, Retail Mall and Hotel Tower 1 Lobby
*Thanks to Sliding Doors Entertainment for the media invite! All production photos are courtesy Sliding Doors Entertainment.